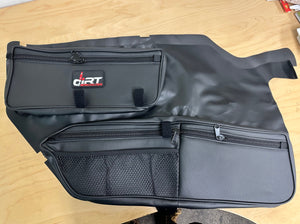 DIRT SPECIALTIES MAVERICK MAX FRONT DOOR BAG SET
(FITS DOOR # DS-4401)
SET OF 2 BAGS (1 front DRIVER AND 1 front PASSENGER)
These custom designed door bags are super high PRP quality utilizing the strongest P-tex material to securely hold these bags in place while dampening the interior noise. 
 ADDS TONS OF STORAGE!
They have the carbon fiber black padded material and have 3 bags per door AND A MESH POCKEt for ample storage.  Designed to fit over our FRONT x3 max frames interior arm rest and door latch system.